El disco que más me gusta de Dakota Staton sin duda alguna, es «Madame Foo-Foo», editado en 1972. Dakota está espléndida en los vocales y el pequeño grupo de acompañamiento es excepcional. Sobresale el sonido de órgano a cargo de Groove Holmes. El  reconocido Cornell Dupree junto a Lloyd Davis subrayan el contrapunto ideal en las guitarras. Completan el grupo, el solvente bateria, Bernard Purdie, junto a las percusiones de Kwasi Jayourba, el bajo de Paul Martínez y el piano eléctrico de Horace Ott. Sonidos de jazz vocal, soul y toques blues en una grabación imperecedera.
He seleccionado tres canciones, pero merece la pena el disco completo:
Madame Foo-Foo, 1972. Selección: 01. Let It Be Me / 02. Congratulations to someone / 03. Blues For Tasty.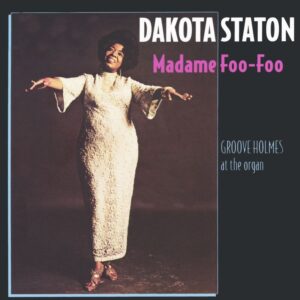 La siguiente selección pertenece a Benny Carter y su orquesta. Otra grabación indispensable. Para mí, su disco más redondo y el grupo del que se rodea son figuras que individualmente desarrollaron etapas solistas propias destacadas: Benny al saxo alto, además de en su faceta de director. Junto a él, también al saxo alto, nada menos que Phil Woods. Pero es que en saxo tenor intervienen el genio de Coleman Hawkins y la solvencia de Charlie Rouse. Completan el grupo, el reputado Jo Jones en la batería, el talentoso Jimmy Garrison en el bajo, Dick Katz al piano y John Collins en guitarra.
Al Igual que el disco de Dakota,  es una obra indispensable por completo.
Elijo en primer lugar la pieza que más me gusta, la preciosa Blue Star, no desmereciendo en nada la conocidísima Honeysuckle Rose y la contagiosa The Midnight Sun Will Never Set.
Jazz de una Big Band en estado puro.
Further Definitions, 1962. Selección: 04. Blue Star 05. Honeysuckle Rose 06. The Midnight Sun Will Never Set.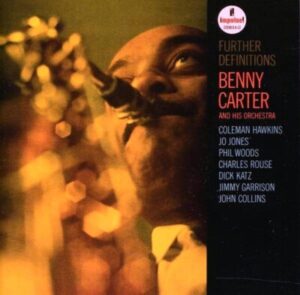 Calidad de Sonido CD: