Smithsonian, es un sello que cuida mucho sus lanzamientos. No solamente se dedica a intérpretes actuales, sino que también recupera artistas que tuvieron su máxima actividad en el pasado, caso de la actual antología de la nativa de Detroit, Michigan: Barbara Dane. El regalo de la salida del doble disco antológico, lo hizo coincidir la discográfica con el 90 cumpleaños de Barbara, hecho que emocionó a la cantante.
Se caracterizó desde muy joven por defender la causa racial, en tiempos difíciles para la población negra. En las notas explicativas relata las dificultades que tuvo en su carrera, debido también a su condición de mujer, en un mundo dominado en ese tiempo por los hombres. Las consecuencias de la Segunda Guerra Mundial, también se hacían notar en la economía. Tuvo que realizar trabajos de dependienta, pero siempre con las miras puestas en su pasión musical.
Con su primer marido y su bebe emigró a
San Francisco
y participó en la
Folk Music Club
. Cuando se casó con
Byron Menéndez
, sus gustos musicales se fueron ampliando, teniendo como modelo a
Bessie Smith
y
Ma Rainey
. Se relaciona con
Kid Ory
y
George Lewis
. Graba el album de blues Clásico
«Trouble In Mind»
en 1957 y comienza a darse a conocer.
Se traslada a Los Ángeles y comienza a actuar en clubes locales de Jazz y alguna reserva en Chicago.
Momento importante en su carrera fue la aparición en 1959 junto a
Louis Armstrong
, en la Televisión. Las actuaciones junto a figuras del jazz y blues se suceden:
Jack Teagarden
,
Benny Carter
,
Willie Dixon
,
Memphis Slim
, …
Las grabaciones de discos también van teniendo lugar, en 1959 «Livin 'with the Blues», con Earl Hines y Benny Carter; «Livin 'with the Blues» en 1962. Abre su Club de Blues, «Sugar Hill» en North Beach; Barbara afirma «Mi sueño siempre fue sacar a la luz a todos estos veteranos. Algunos de ellos no habían tenido su último aliento, y algunos ni siquiera habían tenido su primer aliento. Ellos necesitaba subir al escenario mientras aún vivían y pateaban «, desfilan por allí: Jimmy Rushing, T-Bone Walker, Lonnie Johnson, Lightnin' Hopkins, Sonny Terry y Brownie McGhee, Tampa Red y otros artistas menos conocidos.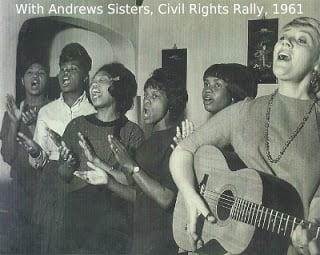 A mediados de 1960, con la guerra de Vietnam, centró su vida en apoyo del movimiento contra las guerras, viaja a Cuba, desafiando la prohibición estadounidense. En 1970 funda Paredon Records, emblema de resistencia. Produjeron casi 50 albumes que donaron a Smithsonian más adelante (algunas grabaciones se han utilizado para esta antología).
Regresó al Área de la Bahía en 1981 y continúo cantando la música que sentía. Sigue en activo, de hecho grabó un album en 2016, con
Tammy Hall
,
Ruth Davies
y
Bill Maginnis
.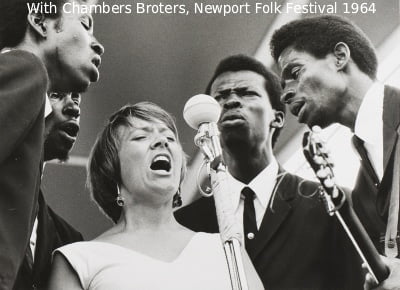 Lo que ha defendido en vida se refleja en sus canciones, girando en torno a la desigualdad social y toda clase de discriminación: racial, sexual, ideológica, …:
«I AM A WEARY AND LONESOME TRAVELER»
,
«WORKING PEOPLE'S BLUES»,
la
difícil consecución de trabajo
, principalmente por las
personas de raza negra
«I DON'T WANT YOUR MILLIONS, MISTER»
, sobre las
condiciones de los mineros
;
«JOIN THE GI MOVEMENT»
y
«SONG OF THE COAT MAKERS»
,
antibelicistas
cuando la guerra del Vietnam;
«WORKING-CLASS WOMAN», TRUCK-DRIVING WOMAN»,
las condiciones de la mujer trabajadora, etc..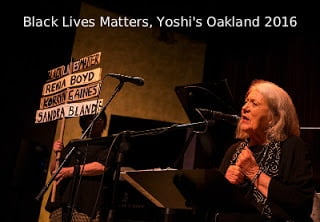 Las canciones van oscilando entre el jazz, el blues rural y el folk más desnudo. La voz de Barbara se adapta bien con su tono fuerte pero a la vez con modulación. Se irán sucediendo las canciones; unas veces, Barbara cantando y acompañándose de su guitarra, muy en la línea de Woody Guthrie o Pete Seeger; en otras ocasiones, será su hijo Pablo Menéndez quien toque la armónica o la guitarra, el sintetizador o percusiones, junto a ella.
Con los Chambers Brothers en los coros vocales; a veces se oyen coros de la audiencia en directo, como en «JOIN THE GI MOVEMENT», algunos artistas reconocidos participan en las canciones, como Lightnin' Hopkins en «SOMETIMES I BELIEVE SHE LOVES ME», «LET ME BE YOUR RAG DOLL (SOUTHERN BLUES)» o «MOTHER EARTH» Art Hodes and Orchestra «WHY DON'T YOU DO RIGHT?», con pequeños grupos de jazz, en trío con el pianista Kenny Whitson en «MY MELANCHOLY BABY» y las tres canciones siguientes; con Memphis Slim y Willie Dixon, en el clásico «WALKING BLUES», Tammy Hall en piano en «KING SALMON BLUES (ABRIDGED)«; Doc Watson en «YOU DON'T KNOW ME / YOU DON'T KNOW MY MIND» y «SALTY DOG BLUES» o Pete Seeger en «SOLIDARITY FOREVER» y «WE SHALL NOT BE MOVED».
Más de dos horas y media para disfrutar si eres amante de estos sonidos de raíces.
Fuente de Imágenes: https://folkways.si.edu/ y https://www.barbaradane.net/